Venue & TravelInfo
Coral Beach Hotel & Resort
CSE 2012 will take place at the Coral Beach Hotel & Resort (Official Rating 5*) situated on 500 metres of natural sandy beach with its own private harbour and boat. It is close to the town of Paphos, 25 minutes from Paphos International Airport and 150km from Larnaca International Airport. This unique resort combines the traditional Cypriot decor of white walls and authentic woodwork with the modern amenities expected of a five star resort.
The resort is located on the edge of the Akamas peninsula, an area protected by UNESCO. Guests can enter Akamas and enjoy the breathtaking scenery either by horseback, 4x4 jeep or by boat. The town of Paphos has itself been added to UNESCO's World Heritage List since 1980.
The Coral Beach is renowned for its unique design, reflecting the local character and respecting the island's environment. Built traditionally with local materials, the hotel offers undisturbed views over the lush landscaped gardens and the beach. The unforgettable high standards of service and cuisine offered in the numerous restaurants, bars, and the other extensive five star facilities, will ensure holiday memories of a lifetime.
At this luxurious yet casual resort, you can revitalize your mind and body in the calming environment of the health spa, learn some of the island's ancient crafts in the art & crafts centre, enjoy a wealth of sports and water sports and, in the Paphos area, two 18 hole golf courses. Here your vacation may be as active, as relaxed or as pampered as you desire.
Crown Resorts Horizon
Crown Resorts Horizon opened in July 2002, it is conveniently located on the picturesque Coral Bay in Pafos, only a few minutes walk from the Coral Bay main area, 11km from the centre of Pafos and 300m from the sandy beach. Next to the resort there are many shops, bars and restaurants and many other extensive facilities that will all combine to make it an ideal choice for those looking for a relaxing holiday.
The resort offers an excellent variety of culinary services such as extensive breakfast buffet, light meals, salads, snacks and barbecued delights for lunch. Fine 'A-La-Carte' dinner menu is also available. The large outdoor, lagoon-shaped swimming pool with free umbrellas & sun beds is complimented with 2 pool bars, one of them a swim-up bar. Kids paddling pool, playground and Children's club. Indoor swimming pool (heated in winter). Outdoor and indoor jacuzzi. 2 Flood-lit tennis courts, Voleyball and Basketball. Fully equipped fitness room, Massage, Sauna and steam bath.
TravelInfo
Sponsoring Airline
Austrian Airlines
Book your flights to the 15th IEEE International Conference on Computational Science and Engineering online at www.austrian.com and save 15 % on all applicable fares!
To do so, simply enter the following code in the eVoucher/Gutschein field on the Austrian homepage booking-engine:
Code:
IEEE12
Conditions:
Booking period: from now until December 12th, 2012
Valid for flights to Larnaca and return as of November 28th, 2012 until December 19th, 2012 (final date for return flight) on OS flight numbers.

Invitation letters
The CSE 2012 Local Organization Committee may provite invitation letters to people who have registered for the conference. For issuing an invitation letter we require the following information to be sent to cse2012@cs.ucy.ac.cy: Full name, Passport number, Date of birth, Address, Institution.
Visa Requirements
IMPORTANT NOTE FOR TRAVELERS: Please note that holders of a valid Schengen Visa who have already travelled within the Schengen Zone, may travel to Cyprus without an additional Cypriot Visa.
Residents of non-EU countries who hold valid Schengen visas and who have already entered Schengen countries, as per the Schengen regulations, may now travel to Cyprus directly from that Schengen member country without applying for a National Cypriot visa and stay in the Republic of Cyprus for the duration of their Schengen visa.
Schengen zone (within red circle):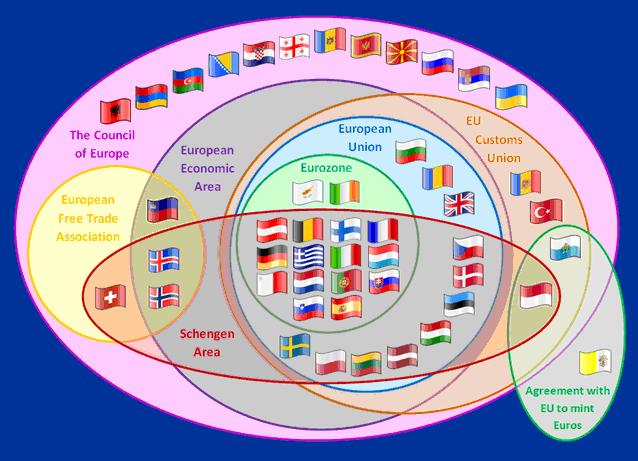 Click here to download the MFA Application for Visa
Where Visas are being issued:
Visas will be issued by all the Diplomatic Missions (Embassies and General Consulates) of the Republic of Cyprus, and by all the Honorary Consulates of the Republic of Cyprus abroad in their respective countries. Additionally visas can also be issued by the British High Commissions / Embassies in the following countries: ARGENTINE REPUBLIC, BAHREIN, HONG KONG, JAPAN, JORDAN, KAZAKHSTAN, KUWAIT, OMAN, SWITZERLAND, SUDAN, UNITED ARAB EMIRATES (ABU DHABI, DUBAI), UZBEKISTAN.
The above information is based on information provided by the Ministry of Foreign Affairs at their website. Please visit their website for the latest information and further details by clicking here.

AIRPORTS
Cyprus has two (2) airports:
The Larnaca International Airport, which is located about 5km (3 miles) from Larnaca town centre and 142km (88 miles) from Paphos.
For more information, maps and flight schedules please visit the Cyprus Airports Official Website (Larnaca)


The Paphos International Airport, which is located about 15km (9 miles) from Paphos town centre.
For more information, maps and flight schedules please visit the Cyprus Airports Official Website (Paphos)


GROUND TRANSPORT

Airport Transfers
Please note that participants have the following options for their transfers from /to the airport:
Private taxi Transfers. Arrange for transfers by taxi through the conference coordinator, Easy Conferences. These transfers are bookable online through www.easyconferences.org. These transfers can be private (max 3 person) or shared, are inclusive of meet and assist, and the service is guaranteed.


Please note that it is very important to include your flight details (date and time of arrival) in your registration for all of the above and below choices of transportation.

Airport Taxis. Get an airport taxi on arrival to the airport. Service is quite good, but at times one may have to wait and prices may vary depending on the time of arrival.


Public Transportation.



Larnaca International Airport to Paphos


Kindly note that at present there is no direct bus service from/ to Larnaca Airport. Therefore, please find below the suggested combinations that are available:

a) Once you arrive at Larnaca airport, you can take the direct service to Limassol; handled by Limassol Airport Express coaches at the cost of 8 Euro (one way). You need to stop at Terminal Point 2: Ayios Georgios Chavouzas. As soon as you reach Agios Georgios Chavouzas, you can hop on the Intercity Buses (Green Buses) in order to reach Paphos town centre. Please visit http://www.airportshuttlebus.eu/ and www.intercity-buses.com for more details.

b) Alternatively you can reserve a place one day prior to arrival with Travel & Express minibus service for this leg. This service is available for travelling between 6 am and 6 pm. For further information please visit: http://www.travelexpress.com.cy/ or call at: +357 25877666.

Paphos International Airport to Coral Bay area

Public bus service is available from Paphos airport to Caral Bay area by OSUPA LTD. Taking Route 612 will make its final stop at Coral Bay area where the VENUE HOTEL is located.
Car rentals. Participants may opt to hire a car during their stay, and thus use it for their airport transfers. Cars may be reserved through the conference coordinator, Easy Conferences at special conference rates which are bookable online through www.easyconferences.org
Innercity Routes
Please visit the official website of OSUPA LTD: http://www.pafosbuses.com/cyprus/buses/37 to view all routes within Paphos centre and suburbs where all the major sites and attractions are located.
In order to reach Coral Beach from Karavella Central Bus Station you should take Route 610 or 612 which will make its final stop at Coral Bay area where the VENUER HOTEL is located.
GENERAL INFO
English is the second language and is widely spoken. A greater Knowledge of French and German is increasingly noticeable.
The currency of the Republic is Euro.
Banks in Cyprus open for the, public from 08:30 to 12:30 midday. Certain banks in tourist areas open during the afternoon.
The voltage on the island is 240 Socket outlets are of flat 3 pin-type (same as in United Kingdom).
All types of medication are available in well stocked pharmacies all over Cyprus.
Telephone : Cyprus automatic telephone dialing system reaches 206 countries. Telecards can be purchased from Post Offices, kiosks and souvenir shops.
There are two international airports in Cyprus, at Larnaca and Pafos.
The two main ports are in Lemesos and Larnaca.
As from May 2004 Cyprus is a full member of the European Community
Cyprus Currency
The European Union's Council of Ministers has approved the entry of Cyprus into the Eurozone.European finance ministers (collectively known as Ecofin) set fixed rates of one euro to 0.585274 Cypriot pounds and euro is the official currency used in Cyprus since January 1, 2008.
The design of the Cypriot euro coins:
1 cent, 2 cent and 5 cent: The Mouflon, the most characteristic species of fauna in Cyprus, representing the island's nature and wildlife.
10 cent, 20 cent and 50 cent: The Kyrenia ship of 4th Century B.C., representing Cyprus's history and its character as an island as well as its importance in trade.
1 and 2: The Idol of Pomos, a cross-shaped idol dating back to the Cypriot chalcolithic period (3000 B.C.), found in Pomos, a village in the district of Paphos. It is a characteristic example of prehistoric art in Cyprus, representing the island's antiquity, culture and civilization.
Public holidays
January 1: New Year's Day
January 6: Epiphany Day
Variable: Green Monday (50 Days before Greek Orthodox Easter)
March 25: Greek National Day
April 1: Greek Cypriot National Day
Variable: Good Friday (Greek Orthodox Church)
Variable: Easter Monday (Greek Orthodox Church)
May 1: Labour Day
Variable: Pentecost-Kataklysmos (Festival of the Flood)
August 15: Assumption
October 1: Cyprus Independence Day
October 28: Greek National Day (Ochi Day)
December 24: Christmas Eve
December 25: Christmas Day
December 26: Boxing Day
Notes: All Public Services, private enterprises, banks and shops are closed on Public Holidays. In resort and coastal areas, however, shops and certain services remain open. Banks are closed on Easter Tuesday but not on Dec. 24.
Medical facilities
The health facilities in Cyprus are of a high standard. The latest technologies and operating techniques are standard practice, with heart bypass surgery and kidney transplantation operations routine in the islands hospitals. The accident and emergency departments of all the hospitals are manned with English-speaking personnel, but it's advisable to seek the assistance of an interpreter for more complex medical matters. Emergency treatment in the Accident and Emergency department, is free to tourists.